Putting cash back into traders' pockets!


You are here: Forex Broker CashBack » Forex Broker News » Holiday Trading Schedule Dec 2...
Forex Broker News
You can find and read the latest news and press releases from all of our partner brokers here.

Thursday 18th of December 2014
Holiday Trading Schedule
Dec 2014 - Jan 2015
Please find the trading schedule for the Christmas, Boxing Day and New Years Day holiday's below.

We would like to take this opportunity to thank you for your business over the last year. 2014 has been a year of growth and change for IC Markets as they endeavor to bring you the best trading conditions and client experience possible.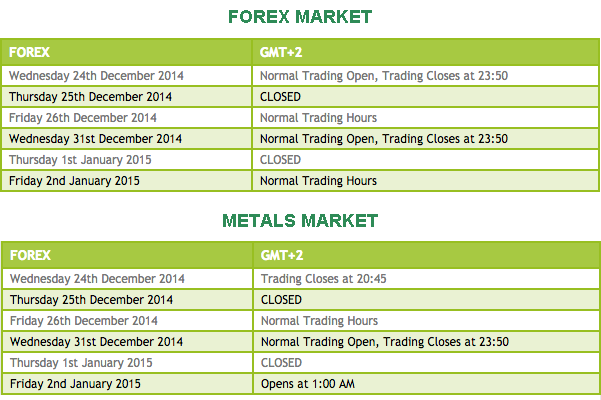 For CFDs and complete holiday schedule, click here.

Liquidity over the holidays is expected to be especially thin so please take the necessary precautions to ensure you are not affected by increased volatility, spreads and intermittent pricing.

IC Markets will have staff to assist you throughout the holiday period whenever the market is open. Please be aware that deposits and withdrawals will be delayed when there is a bank holiday. Online funding methods such as credit/debit card and Moneybookers will still be processed instantly.